Above & Beyond is a full service event planning company centrally located in Orange County and serving the Southern California region. No matter if you are the looking for just a little help with ideas and planning or you are looking for the whole package where we guide you through all aspects of creating an amazing event we have the right team to fit your needs. With Above & Beyond we cater to your specific needs and are here to make sure your event is as enjoyable for you as it is for your guests.
---
Selina Grande
Certified Event Producer
Selina Grande found her calling in the event planning world at a young age. From her early years working for a family friend's catering company, and helping her mom with social functions, she quickly learned an eye for detail and a passion for planning social gatherings of all levels.
Selina became a Certified Event Planner and attained an internship with BTB Productions, a full service event production house. Selina's expertise quickly moved her up the ranks at BTB and soon she was planning events from corporate and social, to weddings fit for a Princess!
Selina worked at Newport Dunes Waterfront Resort for 5 years leading the Wedding division and upping their sales by 30%. This experience with event production alongside the venue management has given her the knowledge and experience to make your event shine. She has worked with top clients and locations such as, such as Quiksilver, Fox Racing, Sutra Night Club, Pacific Festival, Sketchers Shoes, CHOC Tinkerbell Guild, Taste Of Laguna, Taste of OC, numerous weddings, and assisted with a million dollar wedding at the Montage Resort in Laguna Beach.
Selina prides herself on using her creativity to make client's dreams become a reality. She can with a blank canvas and conceptualize the most creative of elements or work with a client with a specific vision in mind. Truly listening to what a client envisions and presenting different options to help create the perfect fit is one of Selina's greatest attributes. Her organization skills keep the events flowing seamlessly so you can focus on the fun and let her take care of the details. Her love of people and animals makes it easy for her to be a social butterfly. She recently joined the board of Elite O.C., one of the region's up and coming nonprofits.
---
Kelly Ma
Event Producer
Kelly Ma first found her passion for event planning through organizing fundraisers and volunteer events for non-profits at a young age. She has had experience with various types of events for more than six years and has a great love for the creative and logistical side.
Kelly is now on her last semester at Chapman University where she is earning her degree in Business Administration with a concentration in Management and a minor in Leadership Studies. During her time there, she has put on numerous events for students and has gained additional experience in marketing. 
Kelly is always determined to make each event memorable and is all about taking the stress off of the client's shoulders. She loves getting to know clients and their hopes so she can creatively spin their ideas into an unforgettable time.
---
Ashley Nguyen
Event Producer

Ashley Nguyen found her love of event planning in high school while in charge of a community service club. From fundraisers to service events, she quickly noticed her knack of planning for the events due to her attention to detail and collaboration skills. She continued to stay involved in extracurriculars that provided her opportunities to further her event planning experience. Ashley found her love in event planning, especially since it emphasizes on creativity while staying in the parameters of clients.
In 2019, she acquired a part-time job as an Event Planning Assistant at Lifetime Weddings & Events to build some formal experience with weddings and birthdays. She came onto Selina's Above and Beyond team in 2020 to gain further experience in the differing areas of the event planning industry.
Currently, Ashley is a Junior studying at California State University, Fullerton. She's majoring in Business Administration with a concentration in Finance. She is a part of the Business Honors Program. As a Honors member, she takes part of the Community Outreach Community, which plans service events that help out others in the area. She previously was active for two years on the Student Advisory Board of the College of Business and Economics.
---
Audrey Chau
Marketing Manager & Event Planning Assistant
Ever since high school, Audrey Chau knew that she loved marketing and event planning. She spent her whole high school career organizing school functions, community events, and marketing campaigns for her extracurriculars.
Even today Audrey continues to devote herself to these passions as a student at Cal State Fullerton. She is majoring in Business Administration with a concentration in Marketing and is apart of the Business Honors program as the Executive Director of Internal Engagement.
Through all these experiences, Audrey found that her life calling was to support others using her talents. Whether it is hosting an event or marketing on social media, she truly wants to go "Above and Beyond" to assist you. She looks forward to working with you at Above and Beyond Events!
---
Josephine Pham
Event Planning Intern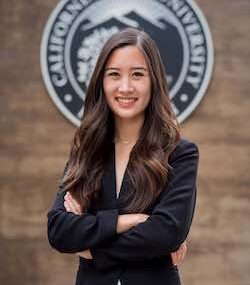 Josephine Pham is currently a senior studying business with a concentration in general management at CSU Fullerton. At a young age, she has always been passionate about finding ways to support her community. Her experiences include volunteering with non-profit organizations since high school and planning multiple campus events to create memorable experiences for everyone to enjoy.
As an intern at Above & Beyond Events, Josephine hopes to challenge herself by taking on new opportunities to help develop her personal growth and build towards a career that can have her take on managerial responsibilities and event planning skills as a business major.